Home

/

Машины доставочные МД6
Load-Haul Dumpers MD6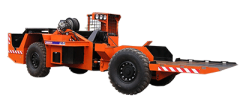 The MD6 loader is designed for high production, loading and transportation in underground mining application.
The loader is fitted with a winch to pull equipment and materials up to the vehicle and onto the load carrying or a fixed platform. The winch has a hydrostatic drive and an automatic brake, which provides quick auto reverse, operational comfort and protects the machine components from overload. The winding mechanism enables pulling a load from the distance up to 30 meters and at an angle of -90° to +90°relative to the longitudinal vehicle axis providing correct rope lay on the drum.
Optionally (under a separate contract) the vehicle can be equipped with a multipurpose, safe and easy to mount lift platform.
The vehicle design ensures safety, operational comfort and excellent productivity:
Low-toxicity diesel engine, licensed for underground application by the Mine Safety and Health Administration (MSHA, USA), Belarusian State Department for Industrial Supervision (Gospromnadzor), the Federal Committee for Mining and Industrial Supervision (Gostekhnadzor, Russian Federation);
Two-stage system of exhaust gases purification (a catalyst and a relief tank);
Safe access to the operator's seat;
Built-in hydraulic jacks to facilitate wheel mounting.
Performance data
Maximum payload capacity, kg
6000
Maximum winch pull capacity, kN
100
Rope working length, m
29
Maximum operating weight, kg
11300
Maximum speed, km/h
20
Number of gears (forward/reverse)
4/3
Wheel arrangement
4x4
Components
Engine
Deutz F6L912W
Power at 2500 rpm, kW (hp)
69 (94)
Purification of exhaust gases
two-stage system
Electrical system, V
24
Hydrodynamic powershift transmission
ZF 4WG98TC
Axles

rigid planetary axles with multi-disk differential lock and with encapsulated oil immersed multi-disk brakes in wheel end

Tires
14,00-20
Steering
joystick
Implement control

joystick

Winch control

joystick

Brake system
- service brakes
encapsulated oil immersed multi-disk brakes in wheel end, hydraulic dual-circuit with hydropneumatic accumulators
- parking brake
single-disk spring applied hydraulically released brake

Cab

open

Optional (lift platform)
Payload capacity, kg
1500
Lifting height, mm
3040
Control
manual hydraulic valve
Weight, kg
1200
Please note: Technical data may vary. The manufacturer reserves the right to introduce changes without prior notification.