Home

/

Устройство комплектное распределительное с элегазовой изоляцией КРУЭ серии ИГЭА S
Medium Voltage Switchgear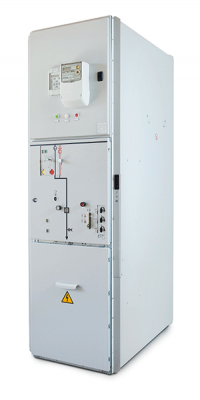 Medium voltage switchgear is used for receipt and distribution of electric power on transformer and distribution substations, as well as for performance of commutation functions in industry. Field of application covers nominal voltages up to 20 kV and nominal currents up to 2500 A.
HARDWARE
Ready for use switchgear with metal air-tight reservoir and metal partitions is designed to be installed inside premises;
Welded stainless steel gas-tight reservoir;
SF6 gas insulated compartment of switches;
One-pole insulation of cable connections and collecting buses;
Erection and extension of switchgear using no SF6 gas;
Shielded system of collecting buses insulated by silicon rubber;
Cable connection from the front side via plug-in adapter;
No maintenance is required.
HIGH OPERATIONAL RELIABILITY AND READINESS
Air-tight arrangement of primary circuits inside reservoirs protects against such environmental hazards as mud, humidity and petty animals;
Switchgear welded reservoir retains air-tightness over entire service life;
Access is provided to drives of commutation equipment installed beyond switchgear reservoir;
Erroneous commutation operations are practically ruled out owing to interlocks and logical arrangement of drive elements.
PERSONAL SAFETY
Contact safety owing to metal encapsulation of live parts.
Visual mnemonics with mechanical indication of commutation positions.
High-voltage fuses and end cable boxes are accessible only with tab lines grounded (option).
Control is possible only with closed body (only for cells with high-voltage fuses).
Answering interlocks.
Capacitive system of no voltage control.
Grounding of feeders by means of ground wire for short circuiting.
Resistance to emergency arc impact – version of connection compartments is pressure-resistant – channel for pressure release is from rear (with loose installation).
Indication of operational readiness with self-check function is just read out, doesn't depend on temperature and ambient pressure fluctuations, has non-contact definition of parameter under measurement and signal contacts (option) – 1 closing + 1opening for remote transmission.
Minimum fire load.
Switchgear reservoir is made as sealed pressure system under IEC 62 271-200, i.e., SF6 with which the reservoir is filled requires no maintenance.
EFFICIENCY
Switchgear needs very modest outlay over entire service life and has the highest possible readiness for operation owing to:
there is no need in maintenance whatsoever;
independence from climatic conditions;
minimal footprint;
long service life.
Switchgear can be mounted on ships and platforms.
MAIN TECHNICAL DATA:
LIFETIME OF VACUUM POWER SWITCHES USED IN SWITCHGEAR IS 10 000 COMMUTATION CYCLES BEFORE MAINTENANCE.
Switchgear of series IGEA S is designed for operation under the following conditions:
degree of shell protection Ip65;
ambient air temperature from -5 to 55oC;
relative ambient humidity at temperature 25 o C is 98% maximum;
height above sea level is 1000 m, maximum.